Not for his music, of course, but for his incredible run down the streets of Pamplona ... two weeks AFTER the annual Running of the Bulls of the Festival of San Fermin.
Why he ran is still a question. Perhaps there is a clue in his song, "Hallucinations I Can't See:"
It's a question of identity,
For if I knew which one was me
I wouldn't have to obfuscate
I'd just lie down and ..."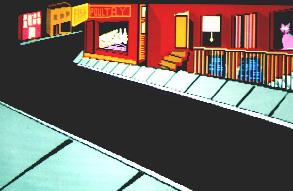 The film though, and the recordings with dbFox, they are real. The film is 10 minutes of computer animation, for which the animator possibly also sacrificed his vision (physical and spiritual).
"There is kind of a primitive something-or-other about the work," said Kwang the Inscrutable, a Tibetan film critic who never actually saw the film. Neither did its star.
View the film via this link. Allow time for downloading/buffering.
If you would like a DVD copy, email $10 U.S. via PAYPAL to ssuerp59 AT yahoo.com. Please add $4 for shipping to Europe or South America. Other locations please inquire.