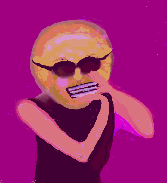 RIBS 'n SAUCE

(Back in Kansas City)

a 10-minute animated film

Click here or visit Poets Collective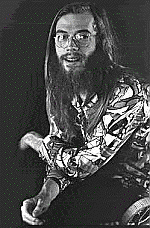 Triple entendre
In memory of Chet Helms
The young — they never quite get it until I show them the 1977 Led Zeppelin ticket stub with the price clearly visible: Four dollars. The trick is not just to start with a word which has three or more meanings, like beguile, but with three entirely different definitions:
Why did the frog go to the brewery? He heard things were really hoppin' there.
Imagine someone's life as a sort of triple entendre, a mind-bendin', veil-rippin', great gawdzilla-stompin' rolla-coasta. The 50s gave us Alan Freed. He was the anti-Freed.
So anyway the same frog takes out a second mortgage to buy Stones seats in 2005. No, wait -- on the cheap he hops to the roof of a concert facility outbuilding with three other frogs to check out Dave Matthews. Police on horseback nearly trample small children with searchlights in their eyes. The National Guard, the Fourth Armored Division, two units of the Bolivian Army and Bomba the Jungle Boy are called in to control what is officially labeled an "amphibious assault."

Once, though, we had a saying. Oops! wrong planet. No, another saying. Anyway, Bo White, who fills downtown streets with drum rhythms all summer for free, told me that in handling a difficult person, "Kindness first — always works."

I expect a soul with a decent jacket can travel a fair distance on a drumbeat.

shipaground AThotmail.com
Latest recipients:
Some excellent 1960s resources; many offer a great deal of historical information; others simply represent an attempt to capture some of the essence of the era.

Woodstock Preservation Archives
New: Martha Colburn (New experimental film & art)
33 by Christina Deming Modern poetry by an exciting new voice.

Judy Henske Queen of the Beatniks

Free Download -- a 60s classic from "Broken Soul"
1969 Texas International Pop Festival
The Psychedelic 60s: Literary Tradition & Social Change
Furthur:
Are you ... or a loved one ... a hippie? Find out via this quiz
Woodstock Nation Online
60s sites